The Internet of Things (IoT) works great when you are inside a building. There's a stable, temperature-controlled environment and fluctuations that are predictable. You've basically got an unlimited supply of power. The worst of your concerns is interference from too many busy objects making digital noise.
What happens when we take IoT into the wilds, into the actual environment? Into rampant rivers, ratty sewers, shrinking aquifers? Into miles and miles and miles of agricultural fields? It gets way messier.
For all the IoT freshman out there: remember IoT has been around in environmental monitoring for over 25 years. Environmental innovators have been setting up base-sites and sending data to remote computers since the 70's (see our article on Environment of Things). Many sites and assets still use these once innovative, legacy technologies, including satellite, dial-up, and bigger wifi systems. The issues these systems dealt with are still the same for environmental IoT today.
Key challenges:
1. Environmental assets are often protected or in sensitive places, not near readily available power supplies
2. Monitoring equipment is installed outdoors, so needs to be protected from accidental or purposeful damage by people, animals, environmental conditions.
3. Data is collected on hugely variable, regulatory schedules.
What does this mean for power-supply and next-gen IoT for environmental resources?
The next-gen evolution of IoT is forcing these legacy IoT systems to be re-evaluated. For one thing, power-hungry legacy sites consume and rely on larger power-supplies and big base-stations (with direct access to a power grid, expensive & large solar-panels, huge wires running to connect everything). Ironically, monitoring sites intended to protect our resources, end up making a big alteration and impact on the environment.
Let's review the common power scale: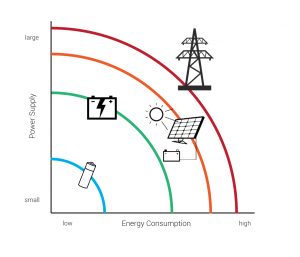 Power supply types from large to small
Line-power (energy grid)
Solar panel arrays
Generators
Large batteries
Single solar panels
Low-capacity batteries (non-rechargable)
High-capacity battery (non-rechargable)
Small low-capacity battery (rechargable)
Small high-capacity battery (rechargable)
Relying on the high-energy consumption of legacy IoT basically means everything costs more. It's a greater cost to the environment, and a greater cost to our wallets. The next-gen IoT wants to avoid those unnecessary environmental and material costs. IoT is now moving to miniaturized tech, running on vastly lower-power, with faster and longer data-send rates. This is a good thing for the environment. Because people are pushing for more sustainable data collection. And we no longer have to rely on massive construction projects with expensive installations to run remote-monitoring.
Sustainable IoT environmental monitoring requires small,  
low-energy consumption

power supply.
The goal:
> collect the most data
> at the least cost
> with the least impact on the environmental asset itself.
Instrument requirements:
> no grid power required
> rugged and reliable (durable non-corrosive material)
> collects and transmits data at a site unattended for long amounts of time in dynamic conditions
Best practice suggestions: 
> low-energy power standards
> collect and send data without wires
> low visibility profile (for site security)
In our product dev and research — with many mistakes along away — we've settled on a few key technology players.
Top choices for low-power, high-performance environmental IoT standards:
Bluetooth Low-Energy (BLE)
With the recent implementation of Bluetooth gateways, improved range, low-energy consumption, and the fact that Bluetooth is a standard in many other technologies (cellphones, computers, cars), BLE devices are a top choice for integration in remote environmental monitoring.
LoRa
LoRa's longer range, bi-direction communication, and small profile base-station implementation make this radio protocol ideal for many places where cell towers and grid connectivity are limited.
SigFox
French company SigFox, is a good option for uni-directional, low-cost integration. Good on basic IoT security, not great on advanced, rugged options.
LTE Cat-M1
Forthcoming this year, LTE M1 looks like a challenger for engineers looking for the lowest-power, highest performance (ie. wake-up and send data often!) options.
What's the take-away?
Environmental IoT sector is growing rapidly, while addressing the challenge of adapting legacy technology. Research says that between 2015 and 2021, IoT is expected to increase at a compounded annual growth rate (CAGR) of 23 percent, making up close to 16 billion of the total forecast 28 billion connected devices by 2021.
People need next-gen IoT to make us smarter at managing environmental resources (soil, water, sunlight, gas, oil, mineral, etc.) for less cost and impact. By 'smarter' we mean, know more while making less negative environmental impact. By 'managing' we mean, retaining and using more resources for greater benefit for all.
The key thing for IoT integrators is to create scalable, module, tailorable products that can be used in the field over long periods of time, and easy to change or upgrade as technology improves. Legacy systems need to prepare for these modular upgrades, so that they can start using future-ready, low-power IoT devices.
---
Heidi Gustafson is lead project manager and director of research at Anuraco. Get in touch with us at +1 425.820.8221. Heidi can be reached at heidi@nullanuraco.com.